Work With Us
Solve business challenges
…and put your people first by working with Lis, Diana, and our extended team of experts through the HCD (Human-Centered Design) method at CX by Design.
(If you're here by accident or have no idea what we're talking about, reading what the heck is HCD is a great first step.)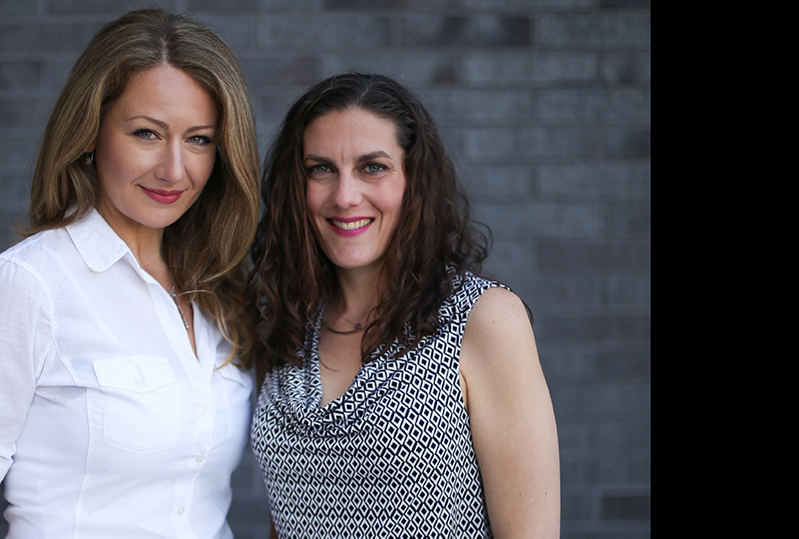 What We Offer
Being in business is tough business.
Drifting from core vision or making decisions based on age-old assumptions when your "gut" is telling you otherwise are challenges the HCD process is designed to solve.
At CX by Design we use the people-first, HCD method to help passionate, risk-taking, small to medium-sized businesses create change that matters.
That's a really fancy way of saying, we show you and your team the ins & outs of the HCD method, teach you how to use it in situations specific to you (i.e. to discover and capitalize on what your customers really want and will pay for before your competition does or to eliminate customer complaints and costly 'customer rescues'.), and help you embed a people-first mentality into your core processes and mindsets (ensuring your business creates a remarkable customer experience resulting in increased satisfaction and resulting referrals).
You bring the team, context, and insights. We bring our 20+ years of expert HCD knowledge. Together we investigate, define, and conquer your biggest business hurdles ensuring your business succeeds beyond measure.
Sure, you can read a book or take a class; just like you can probably give yourself flu shots. Or, our deeply experienced (and fun!) team can be your guides. Your flu shots, you decide.
What others say about us
CX by Design possesses phenomenal facilitators with enthusiasm for designing products and services around existing human needs. They're holistic thinkers who will help you search for opportunities to innovate – whether it be internal processes or external products/services – within your company.
Elodie Camaret
- US Consumer Innovation Director - R&D, Essilor USA
A keen sense of the customer experience. Each engagement approach is a strategic, insightful blend of science and art.
Holly Hill
- VP Client Partner, Investis
An analytical and thoughtful approach to every project, with a keen ability to translate a complex subject into something tangible and understandable.
Jennifer Wallace Grady
- EVP, Director of Client Services, CO-OP Brand Partners
Exceptional strategic recommendations that push products toward creative innovation.
Diana Doroftei
- ITS Training Manager, Oliver Wyman
Creativity, leadership, professionalism, and strategic thinking with the ability to deeply extract business goals and strategies and turn those into an optimal, human-centered experience.
Ashley Moje
- VP of Operations + Partner, Iteration Group
Creative and thoughtful approach to solving problems, combined with deep knowledge of human-centered tools & techniques played an instrumental role in driving the project.
Kintu Bhandari
- Experience Designer, EchoUser
A keen understanding of human-centered design tools, techniques, and best practices.
Jenn Coonce
- Creative Director & Information Architecture, Weight Watchers
Not only did we start designing a better product, but I felt more confident about our decisions because they were backed by real work – not just our gut.
Nate Westheimer
- EVP Product & Technology, AnyClip
A wealth of experience in product strategy & design with willingness to adapt during ever-changing/evolving environments for an end result that's mutually beneficial for all.
Scott Baldwin
- Director of Information Architecture, Critical Mass for AT&T
Expert facilitation between various groups. Successful with both strategic concepts and detailed oriented execution.
Amy McNamara
- Senior Information Architect, USAA
Steering product design & implementation by elegantly aligning business strategy with customer needs.
Ryan Summe
- Founder & CEO, Waypoint App
A perfect fit for achieving our goals efficiently and effectively, with an ability to find the crux of the issue no matter how convoluted, and synthesize multiple issues into clear solutions.
Jonee Austin
- SVP Strategic Implementation, Daggerwing Health
Expert knowledge, expertise and openness gave me confidence in a very challenging project, and established trust and quality at the very start.
Kevin Norris
- Partner, Spark Digital
I'm 100% confident that I'll get quality product and human-centered output.
Jonathan Horowitz
- Product Lead, Theorem
Excellent facilitation and research skills to focus a team on building the most valuable version of a product that serves human needs.
Alicia Tyree
- Partner & Product Development Manager, Arabella
So… what happens when we work together?
We get this a lot because it sounds like we're here to save the world, one business at a time. Close.
Our clients are all unique. This means, the first thing we do is tailor the HCD method to you. In our initial conversation, the main goal is to understand: what's the problem? How can we help? And, what's the best way for us to work together?
We also don't pretend to know more than you about your business, and we don't tell you how to run your business.
We bring human-centered techniques into your business so you and your team can use them to solve problems, ignite business ideas, and re-energize growth.
We don't just give you the rod; we teach you to fish.
Usually, all engagements involve some measure of:
Taking a forensic look at your business challenges to help you determine what is the issue. Sometimes we uncover deeper, unseen issues that fuel visible problems.
Helping you gather needed supporting data by talking to you, your customers, your employees, and whoever else is involved.
Generating insights and identifying patterns, gaps, and opportunities in the gathered data.
Concepting, prototyping, and testing solutions created to fill the gaps & opportunities.
Iterating through this process ad infinitum.
Here are a few typical client engagements, but you're unique (!) so we're open to ideas:
HCD Partnership
Maybe you're an HCD champion (or at least an enthusiast) who wants to steer your organization into HCD waters. Or, you're new to HCD concepts, but have a gut feel that this is something your business needs to stay connected to customers and employees. Either way, we work with you to apply the HCD method to processes and systems throughout the business, and ultimately help you build out an internal HCD champion team to carry the torch into the future.
HCD Training Sprints
You may have already identified a few people to be your "experience design team," or to be part of an "innovation lab." Maybe these would-be HCD champions have read a book or two, or took an online class on "Design Thinking" or "Human-Centered Design." But, you realize you still need expert trainers to coach them through a sprint, or facilitate modular sessions, to solidify concepts.
HCD Conversations
Sometimes you (or your team) just need answers to keep you moving along in ongoing HCD journey and the internet just won't do. Our team unpacks your thorny questions in regularly scheduled Q & A sessions, much like your best friend when you need them.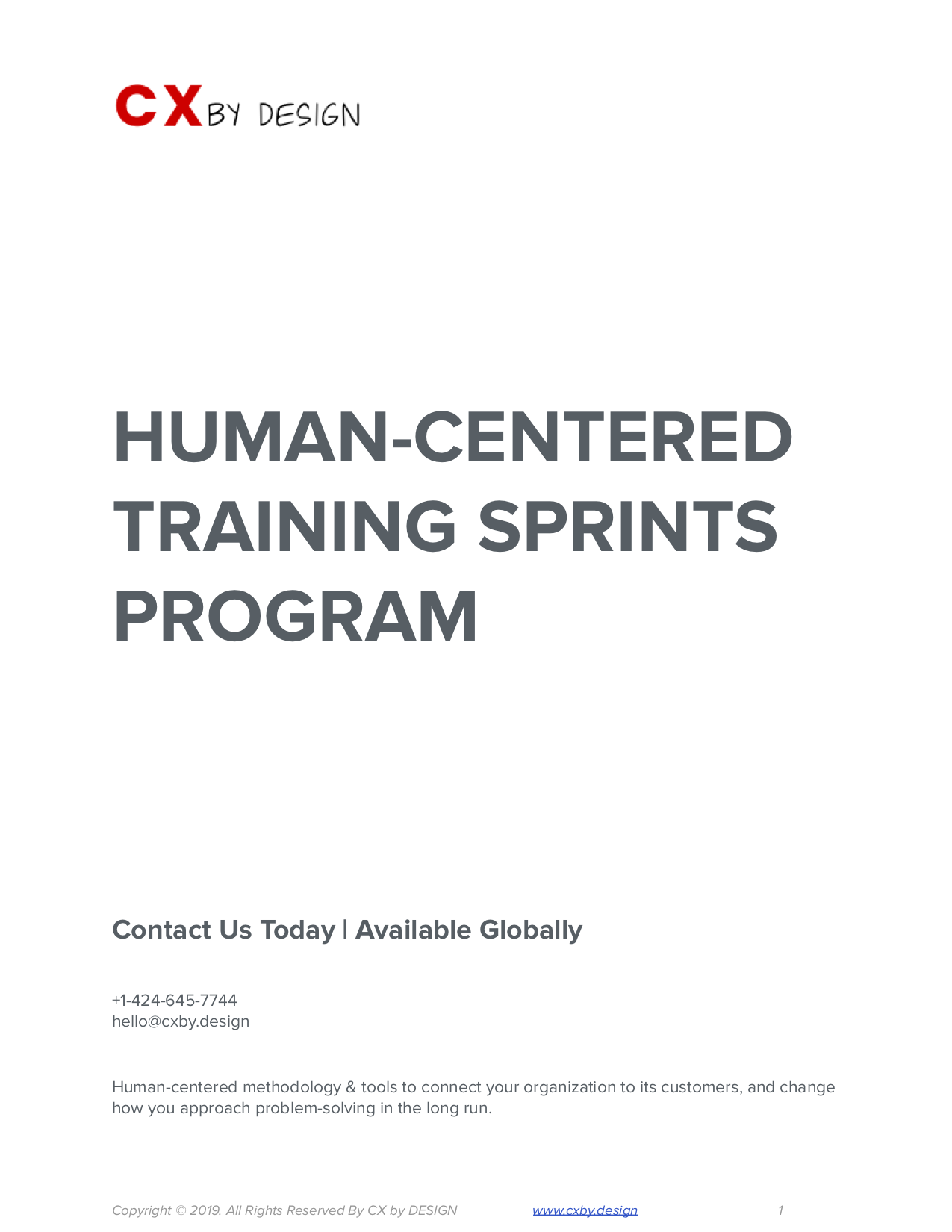 Yeah I Get It? And You're Different How?
Let's keep it real. A consultant is a consultant. We'll come in with an outsider's perspective and expertise in applying the HCD method in the real world.
There are no guarantees, no matter what anyone tells you. However, here is what we can guarantee:
CX by Design embodies the concept of "human-centered" – We are a people-centric team who are passionate about living up to our credo, while helping businesses live up to theirs. We live it as a company, and as individuals.
Relatable approach to "designy" stuff – at heart, we're translators of mumbo-jumbo. The passion we have for translating complex theories and processes into approachable, realistic, and applicable terms is rivaled only by the invention of the post-it note.
We work in reality, not fantasy – flexibility is key when applying the HCD method to real problems with a lot of moving parts. Our main goal always is how does the HCD method apply to YOU, not following a rigid framework.
A distributed team – Being remote and flexible, makes us more local. We take trains planes and automobiles to get to you whenever needed for however long. Otherwise, technology works pretty well!
We're people-people – It's our joy; we live it. Bridging the gap between people and businesses is something we've worked on for over 20 years.
We actually do expect something from you too – Our clients are courageous, innovative, and passionate about making a difference. And, we are selective with who we take on. Honesty and openness is what defines our business, and all our client engagements. So if you always need to hear "yes" when the answer is clearly "no," buyer beware. We care for you, but this is tough love.
The HCD method seems simple, but once you dive in, you'll find yourself asking a lot of questions. A LOT. We are here to help.
Check out What The Heck is HCD as a starting point. We also put together a short, concise guide to getting started with HCD in your organization, which you can download below.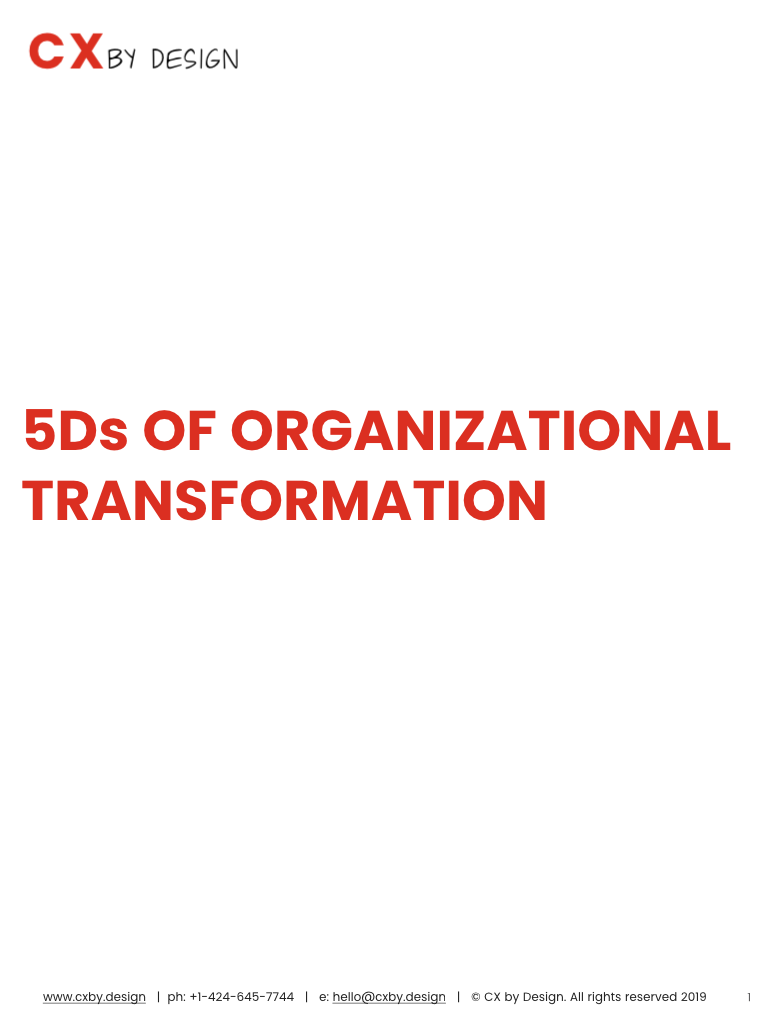 Better Together
At CX by Design, we're passionate human-centered design experts with a wicked coffee habit. We offer multiple options to get your business thinking and solving problems differently.
Don't see something that fits? Ask us anyway.